Co Curricular Activities (CCAs)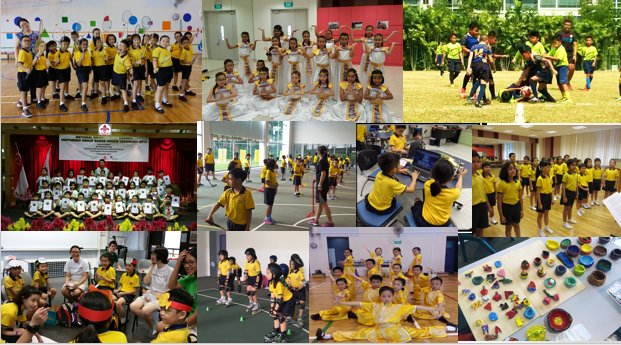 CCA Details (2023)
CCA
Venue
Mon
Tue
Thur
Sports and Adventure Club



IBC
Parade Square
School Field
3.30 – 5.00pm
Service & Interact Club
3EM classroom
3.30 – 5.00pm
Malay Dance
Dance/Drama Rm
3.30 – 5.00pm
Young Artists' Club
Art Rooms
3.30 – 5.00pm
Speech & Drama Society
Music Rm 1
2.00pm – 4.00pm

IT Club
Computer Labs
Teaching Lab
2.00pm – 4.00pm

Contemporary Dance
Dance/Drama Rm
2.00pm – 4.00pm

Scouts
CCA Rooms 1 & 2
2.00pm – 4.00pm

Floorball
Sch Hall (Mon)
ISH (Tue)
Recreation & School Team
3.30 – 5.30pm
School Team
2.00pm – 4.00pm

Badminton
ISH (Mon)
IBC (Tue)
ISH (Thu)
School Team
3.30pm – 5.30pm
Recreational Team
2.00pm – 4.00pm
School Team
3.30pm – 5.30pm
Rugby
School Field
Development Team & School Team
2.00pm – 4.30pm
School Team
3.30pm – 5.00pm
Wushu


School Hall
Recreational Team
2.00pm – 4.00pm
School Team
2.00pm – 4.30pm
School Team
3.30pm – 5.00pm
Children's Choir

Music Room 2
3.30pm – 5.30pm
Curricular Goal
The intent of Co-Curricular Activities (CCAs) is to spark passion and interests, and develop knowledge and skills in areas beyond the academic and non-academic curriculum. Apart from bringing together students from different classes and profiles, CCAs are a natural platform for students to develop their character by learning and practising the school's values such as Resilience, Responsibility, Care and Harmony, and developing Socio-Emotional Competencies such as managing one's feelings and working well with others, all of which are essential to prepare our students to be future-ready.
CCA Offerings
The school offers a total of 13 CCAs which are divided into three categories.
They are as follows:
Sports & Fitness
Visual and Performing Arts
Clubs & Societies
1. Badminton
2. Floorball
3. Rugby
4.   Sports and Adventure Club
5. Wushu

1.

Contemporary Dance


2.   Cultural Dance (Malay Dance)
3.   The Children's Choir
4.   Young Artists' Club
1.      IT Club
2.     Scouts
3.     Service and Interact Club
4. Speech and Drama Society

CCA Policy
Students from P3 onwards are encouraged to participate in a CCA. We strongly encourage students to remain in their CCA from P3 to P6 to ensure deeper skill development and continuity.
CCA Transfer Policy
While we encourage all students to remain in their CCA, we understand that there may be circumstances that students are unable to continue in their CCA. Thus, the school has two transfer periods within the year, first 2 weeks of Semester 1 and last 2 weeks of Semester 2.
The school does not accede to any CCA transfer requests after the transfer periods unless on medical grounds.
Students are entitled to only one CCA change during the time they are in the school. Provision for more than one change will be made for special cases like medical conditions.
Students are required to fill up the CCA Transfer Form and submit to LH CCA, Mr Fabian Koh for approval.
The CCA transfer is only successful if there is vacancy in the selected CCA.
Attendance
To ensure depth in knowledge and skills in the CCA, all students enrolled in CCA are expected to achieve 80% attendance in the year of participation. Students who do not meet the minimum attendance will not be considered to have completed the CCA, and may not be fielded for competitions or performances. If a student misses a session, he/she must produce a medical certificate or a valid supporting document to explain his/her absence.